Service Area

Vending Machines and Office Coffee Service Baytown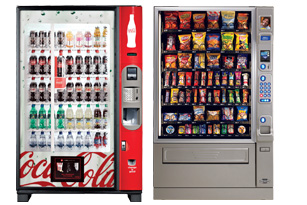 Healthy Generation Vending has been here for our customers through the good and bad times, and we can take care of the needs of your Baytown establishment also. Whether you need vending service, office coffee service or water delivery and filtration, we've got you covered.

Today's vending machines offer a variety of products that weren't possible even ten years ago. Now your Baytown business can have these products in machines installed by Healthy Generation Vending at no charge. We'll also will keep them filled, serviced, cleaned for you. You'll only get the newest, most up to date machines with the latest and greatest technology. You can get vending machines with Coca Cola products, Pepsi Cola vending machines, coffee vending machines, candy vending machines, snack vending machines, vending machines with hot, frozen or cold food selections and of course we have vending machines with numerous healthy food and beverage selections. Our machines are equipped with Sure-Vend infrared technology that guarantees your product is dispensed or you will receive and instant credit. Your Baytown business can also have a Micro Market installed with a self checkout kiosk. The market and our vending machines are tailored to fit your specific needs so your employees have what they want and are quickly back to work doing the things you need them to do to stay competitive.

Is your office coffee in Baytown a little on the drab side? Change all that with office coffee services in Baytown from Healthy Generation Vending. We have state of the art brewing equipment, great coffee selections, tea, hot chocolate and so much more. We keep your break room fully stocked with cups, napkins, paper towels, utensils, Kleenex, sweeteners, sugar and creamers galore all ready to use at all hours. This will eliminate the long delays in productivity when employees leave to head to the local Baytown coffee shop.

How's your water service in Baytown? Whether you use five gallon water bottles or are interested in ending the storage and restock hassles and would prefer water filtration added to your existing water source, we do both!

Ready to get started? It is very easy! Contact us at info@healthygenerationvending.com or call us at 832-510-8363(VEND) now.