Vending Options
Vending Machines in Houston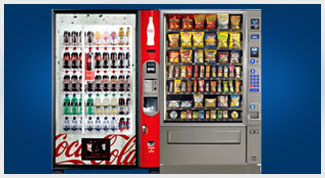 Healthy Generation Vending offers everything a company needs for office and facility vending. We deliver a wide variety of snacks, beverages, coffee and fresh foods to cater to any preference. In fact, we work with each customer to develop a customized product selection to match the unique needs of employees, students, faculty, congregants and all other vending patrons. We use our smart software to maximize the customer experience and continuously deliver new selection options.
Given today's more health conscious consumers, we also work hard to offer healthier snack and beverage choices. Regardless of the vending selection our clients choose, we make sure that our machines are kept clean and operational, and offer the latest in modern conveniences, such as debit and credit card readers.

We install all machines at no charge to our customers. In the event of any service issues, our quick response times help ensure that any program interruptions are kept to a minimum.
The next generation of vending services is here: Healthy Generation Vending. Call 832-510-VEND (8363) or e-mail info@hgvending.com for your free, no-obligation consultation.