Micro-Markets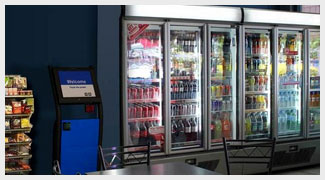 Micro-Markets in Houston
Do you want the next generation in vending convenience? Then put a self-supporting convenience store right in your office with a Micro-Market.
Healthy Generation Vending's Micro-Markets offer a healthy, convenient and efficient solution for your break room needs. You can choose from hundreds of items, including healthier, more nutritious choices that are provided in modern, efficient coolers and fixtures, designed specifically for your unique space. With all the options of a convenience store right on premise, employees will be less likely to leave the office for lunch and snack breaks, maximizing productivity. Also, they'll appreciate saving on the travel expenses to go to the nearest store or restaurant.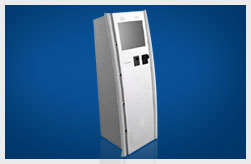 Easy Payment Options
So who runs the store? The store does. Micro-Markets have their own self-checkout kiosks. Customers can touch, feel and read the product labels before selecting. When they're ready, they simply scan the product at the kiosk, swipe a credit card and away they go. MasterCard, Visa and Discover are accepted. Furthermore, Stored Value Cards are available for people who'd prefer to link to an account or pre-load with cash as an optional payment method. No loss of money or refund hassles means virtually no service calls.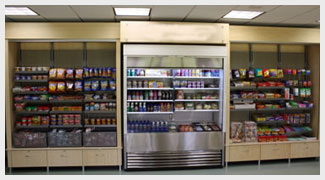 Each market has its own web-based inventory management system, which makes adding products or evaluating inventory easy. An integrated security system with cameras works "in sync" with the kiosk to monitor market activity. From our experience, theft in controlled environments has been negligible.
As with our other vending programs, your inventory is fully customizable...and the vending agreements are customizable, allowing you to subsidize the customers' costs.
The next generation of vending services is here: Healthy Generation Vending. Call 832-510-VEND (8363) or e-mail info@hgvending.com for your free, no-obligation consultation.