Service Area

Vending Machines and Office Coffee Service Conroe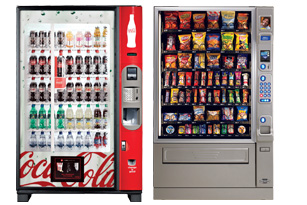 The valuable services offered in Bellaire by Healthy Generation Vending can really change your workplace-for the better! We offer office coffee services, vending machines and water deliver or filtration.

How will these services help your business? Your employees get hungry and thirsty and then they leave on extended breaks to take care of it. That's a huge waste of break time. No one can relax when they are running out and fighting traffic on their break. When you bring food and drinks into your building, all of that wasted travel time is eliminated.

Vending machines have come a long way from the brown boxes of the 1970s. Today, they offer numerous payment options, a huge selection of quality products, and they are very efficient, stylish and much more dependable. We install them, fill them keep them filled and service them at no cost to you. Our vending machines come with hot, cold or frozen foods, candy, snacks, beverages from Coca Cola and Pepsi Cola, energy drinks, sport drinks, coffee and nutritious and healthy foods and beverages. Vending options also include free, traditional and subsidized vending. If you need an even larger selection, we can even install a Micro Market at your Bellaire location to take care of your large staff!
Get your employees back on track with the quick pick me up of a hot cup of coffee. From Healthy Generation Vending office coffee services. Our coffee services include brewing equipment if needed, name brand coffees and teas, cups, plates, filters, paper towels, Kleenex, utensils, sweeteners, creamers and everything else a fully functional break room needs to keep employees in house and to get them back to work refreshed and ready to produce!

Drinking water is a necessity in any office. That's why we deliver five gallon water bottles that your coolers need to keep the water flowing in your Bellaire office. We also install water filtration, removing the storage hassles and heavy lifting of traditional water bottles. It's your choice, but either way you have all the fresh drinking water you will ever need.

Contact us for service in Bellaire by calling 832-510-8363(VEND). Or, if you prefer, email us at info@healthygenerationvending.com.