Service Area

Vending Machines and Office Coffee Service Channel View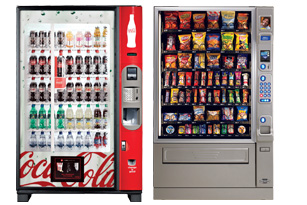 Are your employees in Channel View leaving on extended breaks to grab a cup of quality coffee, a quick snack or a refreshing beverage? If so, you need a Healthy Generation Vending solution. We can help you improve productivity and keep them on site with vending machines or office coffee services from Healthy Generation Vending in Channel View.

We are a full service vending company, and have been for several years. All of our vending machines are stylish, dependable and are energy efficient. We will install the vending equipment you choose for free, as well as stock them and service them for free also. Products are name brands you know and love such as products from Pepsi Cola and Coca Cola. You can also have food vending machines, snack vending machines, candy vending machines, coffee vending machines, healthy vending machines, and vending machines with sport drinks, juices, milk and energy drinks. Vending machines are not the only way to provide food and drinks, and we can show you other options available such as a Micro Market for your Channel View business. These self checkout markets can over more variety and will basically place your very own convenience store right in your place of business.

Your Channel View employees deserve a premium cup of coffee. You can give them coffee house quality product right in your office break room. We'll provide the brewing equipment including single cup brewers as well as name brand coffees and flavored teas. Utensils, plates, cups, napkins, filters, stir sticks, creamers, sweeteners and plates fully stocked and organized in your break room for all your employees to enjoy without the chore of taking care of these things yourself. With no need to head out for that stimulating cup of coffee your employees will stay in house and relax during their break time instead of rushing from the office to a coffee shoppe and back again.

We can also improve the quality and quantity of your drinking water with water filtration or bottle delivery from Healthy Generation Vending. Contact us today at 832-510-8363(VEND) or email us at info@healthygenerationvending.com. Your employees will be visibly happier when you call on the services offered by Healthy Generation Vending!