Service Area

Vending Machines and Office Coffee Service Conroe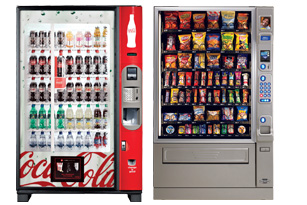 Get the products and service your employees in Conroe want and deserve from Healthy Generation Vending. We bring healthy food and drink right to your building. Our vending machines, office coffee and water delivery and filtration services eliminate the need to leave the office to satisfy cravings. Your neighbors have enjoyed these services for years - now it's your turn!

Our services in Conroe increase productivity and morale by keeping employees at the workplace when they need food or beverages. There will be no more wasted time when they sneak out for coffee, a cold beverage or a snack to stay refreshed and focused!
We are a full service vending provider, and offer a host of name brand vended products for you to choose from. Pepsi Cola vending machines, Coca Cola vending machines, healthy and nutritious foods and beverages in vending machines, snack vending machines, hot or cold food in vending machines, coffee vending machines and vending machines with juices, sport drinks and energy drinks and so much more! You choose what is vended, customizing your vending equipment to meet your needs. Vending options include traditional vending, subsidized vending and free vending. If you have a large workforce, you may also choose to have a Micro Market at your Conroe location. These Micro Markets have a self checkout kiosk and can provide much more for your hungry and thirsty employees and get it done much faster. We can schedule an account manager to come to your Conroe location and work directly with you to create a custom vending solution for your location.

All of our Conroe customers also benefit from our office coffee services. We'll deliver new equipment and all the products necessary to make great coffee at all hours of operation to keep your employees focused and alert at work. We have name brand coffees, filters, cups, plates, napkins, utensils, creamers and sweeteners fully stocked and available for use. No more trips to the market, no more missing items, no more upset employees. Whenever you step into the break room, just walk up to the station and get a great tasting cup of coffee whenever you want.

Want better tasting coffee? Use filtered water. We deliver five gallon water bottles or we can install water filtration so you will never run out or have to lift a heavy water bottle into place again!

Give us a call at 832-510-8363(VEND) or email us at info@healthygenerationvending.com. You and your employees won't be disappointed!