Service Area

Vending Machines and Office Coffee Service Crosby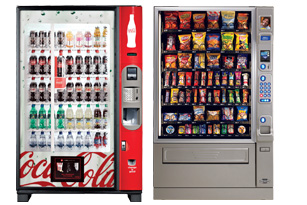 The best in full service vending, coffee services and water delivery await you when you call on Healthy Generation Vending of Crosby. Locally owned and operated for years, Healthy Generation Vending has a track record in Crosby of providing the best in products and services available for these valuable tools for your business.

Vending machines are modern, dependable and very energy efficient and come stocked with a host of delicious products. In Crosby, we will install your vending machines, fill them, keep them full and clean and service them at no cost to your business aside from the electricity to run the vending machines. Keeping your employees satisfied and at work will increase their productivity and raise the morale in your Crosby office. Here are just a few examples of the items you can choose from for your vending machines in Crosby: Pepsi Cola products, Coca Cola products, snack foods, coffee, hot/cold or frozen foods, healthy foods and beverages and candy vending machines. Ask our knowledgeable representative about other options such as free vending, subsidized vending and Micro Markets.

Let us take care of your office coffee needs. When you partner with Healthy Generation Vending there will be no more hassles, mix matched products or lousy equipment. We will take care of everything in your break room and keep the shelves filled with all your favorites! Name brand coffees, new equipment such as the single cup brewers now available and all the condiments too, always ready for your immediate use. Cups, napkins, paper towels, utensils, creamers, sweeteners, plates, napkins and stir sticks in ample supply at all times. Your employees will never need to waste time running out for a refreshing cup of coffee.

Improve the taste of your coffee by having us deliver quality water to your Crosby office. We deliver the five gallon water jugs for your coolers, or better yet, we can install water filtration to end the storage and heavy lifting when restocking water bottles.

Contact Healthy Generation Vending today at 832-510-8363(VEND) or by email at info@healthygenerationvending.com.