Service Area

Vending Machines and Office Coffee Service Cypress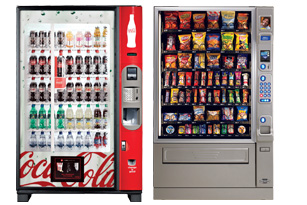 Your employees in Cypress deserve the best and we aim to give it to them. Healthy Generation Vending delivers the best vending services, office coffee and water delivery services in Cypress.

Our local, family owned business has been taking good care of our customers for years. We know that the key to maintaining a strong business is delivering exceptional customer service, the best in equipment in the industry and quality name brand products at a fair price.

Your Cypress office has some choosing to do because we aren't the only game in town. But we're sure you'll come to the same conclusion as many of your business associates. We have brand new vending machines that are stylish, energy efficient and ultra dependable. They come with Sure-Vend infrared technology that insures you get the product you request, or you get an immediate credit. Not only do we have the best machines available, they are placed at your Cypress location for free, and are filled and serviced for free also. There are vending machines with hot or cold food, candy vending machines, coffee vending machines, snack vending machines, vending machines with healthy and nutritious selections and vending machines with energy and sport drinks as well. Healthy Generation Vending can also designate an area of your office and install a Micro Market, providing a self checkout convenience store for your employee's right at work. Other options for vending in Cypress include subsidized vending or free vending. We can discuss all of this during your free, no obligation consultation.

Office coffee is a Healthy Generation Vending specialty. We deliver name brand coffees and teas, brewing equipment and everything that goes into the making of great coffee and teas without wasting time leaving the office for those items. Creamers, sugar, sweeteners, cups, filters, napkins, plates and utensils all fully stocked in your break room for 24/7 availability, taking care of any work shift your business runs.

Great tasting water is also a specialty. If your Cypress office doesn't have good water, your coffee won't taste as good as it could. Water bottle delivery and tap based water filtration is available to all of our Cypress customers.

Let's make a difference in your office today. Call us at 832-510-8363(VEND) or email us at info@healthygenerationvending.com!