Service Area

Vending Machines and Office Coffee Service Jersey Village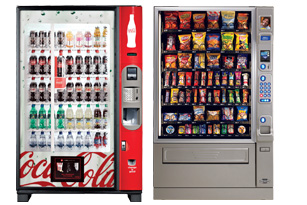 Your Jersey Village business can benefit from the services offered by Healthy Generation Vending of Jersey Village as other businesses professionals have for years. We are a full service vending company, and we also offer water delivery and filtration installation and office coffee services.

Reinvent your office break room with coffee services in Jersey Village from Healthy Generation Vending. We offer a wide selection of name brand coffees and teas, as well as the brewing equipment, cups, filters, plates, napkins, utensils, creamers, sweeteners, sugar, salt and pepper so your break room not only provides great coffee but improves the atmosphere for staying and eating at work so that employees return to work quicker from breaks.

Our vending machines offer a host of fine foods, snacks and beverages for your Jersey Village location. Pepsi Cola vending machines, Coca Cola vending machines, candy vending machines, healthy snacks and beverages in vending machines, coffee vending machines, food vending machines, and vending machines with energy and sport drinks. You customize your vending machines to offer up the products your employees will enjoy the most. If your needs change, we will switch to products that you would like added or swapped out. We keep your vending machines filled and cleaned, and respond quickly if an unlikely breakdown should occur.

Another way to fulfill the needs of your office for foods and beverages is a Micro Market with increased selection and convenience. An account manager will come to your Jersey Village location and explain all the options so you can make the best decision for your business.
Healthy Generation Vending also delivers water in two ways for your Jersey Village location; water bottle delivery or water filtration services. Either way, you'll have plenty of great tasting drinking water available whenever you need it.

Contact Healthy Generation Vending at info@healthygenerationvending.com or by phone at 832-510-8363(VEND).