Service Area

Vending Machines and Office Coffee Service League City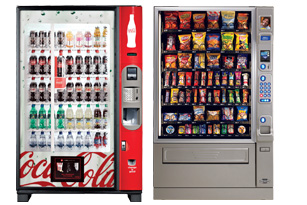 Your employees are your most valuable company asset. Get them the refreshments they need to do the best they possibly can with full service vending or office coffee services from Healthy Generation Vending of League City.

We have been providing our services to satisfied customers in League City for years. We're still in business because we deliver the best customer service and the best in quality products in the business.

The vending machines we use for your League City business offer all sorts of great products - Coca Cola vending machines, Pepsi Cola vending machines, healthy choices in vending machines, candy vending machines, snack vending machines, food vending machines and coffee vending machines are just a few that are available to you. Our vending machines are new, stylish, dependable and offer a number of payment options. We install, fill and maintain every machine at no cost to your business. Keep your employees on the job with the food and beverages they need to keep at their jobs right in the workplace! We can also install your very own convenience store with one of our customized Micro Markets. When you take our free, no-obligation consultation, we will explain all the options clearly so you can determine what best will meet the needs of your business.
Do you offer coffee in your break room? Is it a hassle? Are you always running out to make sure you have enough supplies? Let Healthy Generation Vending handle the office coffee needs of your League City business. Eliminate all of that pain from your daily routine. We provide brewing equipment (including single cup brewers), name brand coffees and teas, filters, cups, plates, napkins, sweeteners, sugar, creamers and stir sticks fully stocked to keep coffee flowing and employees going. No need to make a coffee run, great coffee is right in your break room, 24/7.

Healthy Generation Vending also delivers bottled water and installs water purification systems. Whether you want bottle or to change ordinary tap water into premium drinking water in your League City business, we have you covered.

Getting started is simple. Just call us at 832-510-8363(VEND) or email us at info@healthygenerationvending.com.