Service Area

Vending Machines and Office Coffee Service Liberty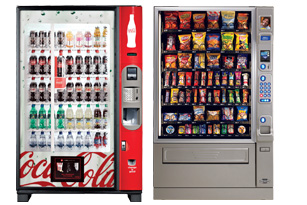 How can you help motivate and boost morale in your Liberty office without paying a dime? Healthy Generation Vending has the services that can do it. Healthy Generation Vending provides full service vending, office coffee services and delivers bottled water to our Liberty business partners.

Better morale lead to more productivity. Our vending services allow your employees to be refreshed and refocused with the foods and beverages they want right in your Liberty place of business, eliminating the need to go out and get them. There are so many food and beverage options available to end their hunger or quench their thirst that they won't even want to leave. This will get them back on task quickly and improve productivity in the process. Vending machines are installed for free, filled for free and serviced for free.

Vending options include:
Pepsi Cola products
Coca Cola products
Candy vending machines
Snack and food vending machines
Healthy foods and drinks in vending machines
Sport and energy drinks
Coffee vending machines
We offer vending options that include subsidized or free vending, a valuable employee benefit that really keeps them happy and on the job. In Liberty, we can also install a Micro Market, increasing selection and providing even more healthy choices such as fresh fruits and vegetables.

Healthy Generation Vending can transform your Liberty break room into a coffee shop everybody will enjoy. All kinds of name brand coffees and teas along with brewing equipment, cups, filters, plates, paper towels, napkins, Kleenex, utensils, creamers, sugar, sweeteners and stir sticks fully stocked in your break room for everyone's immediate use! Whether it's coffee or an office party, you will be ready.

Healthy Generation Vending also handles your water needs with five gallon water bottle delivery. If you don't like the idea of bottle water, we can also install water filtration to your existing water line giving you a supply that will never run dry. Great tasting drinking water for drinking straight or for making coffee and tea is always within reach and ready to quench.

Contact us by email at info@healthygenerationvending.com or call us at 832-510-8363(VEND). We are waiting to service your office needs.