Service Area

Vending Machines and Office Coffee Service Pasadena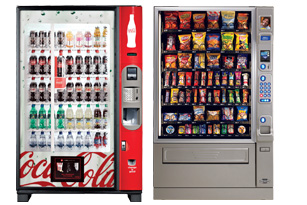 Does your Pasadena business need vending machines? Well that depends. Do you want happier, more productive employees? If so, Healthy Generation Vending can help you boost company morale at no cost to you. As a full service vending company, we have been doing just that for companies in the Pasadena area for years.

Vending machines are a perfect way to provide basic needs your employees have for food and beverages. Having food on-site means they won't have to fight with traffic on their breaks or lunch periods just to get fed. When you partner with Healthy Generation Vending, we will install your vending machines for free and then fill them and maintain them at no cost to you. We offer name brand products including Pepsi Cola and Coca Cola and a host of others you know and trust. We have food vending machines, candy vending machines, snack vending machines, coffee vending machines, vending machines with healthy and nutritious food and beverage selections in any combination you choose. There are multiple vending options, including subsidized and free vending options. If you have a large staff, we can install a Micro Market as well, right in your Pasadena business.

It's no secret that coffee gets and keeps your employees going, and Healthy Generation Vending can keep the best coffee flowing with our coffee services in Pasadena. We keep your break room fully stocked with all your coffee and tea favorites as well as all the filters, cups, plates, napkins, utensils, creamers, sweeteners and paper towels you need for coffee and that occasional office celebration. We also offer several choices in brewing including pour over pots and single cup brewing systems. You need great coffee and we've got it. When your staff needs it, we can provide coffee at any hour and for any shift.

Healthy Generation Vending also delivers water in Pasadena. We can bring you all the five gallon water bottles you could possibly need or we can install a water purification system to turn your tap water in Pasadena into an endless flow of great tasting drinking water that will never run out.

All you have to do now is get in touch with us by calling 832-510-8363(VEND) or by emailing us at info@healthygenerationvending.com. Do it today!