Service Area

Vending Machines and Office Coffee Service The Woodlands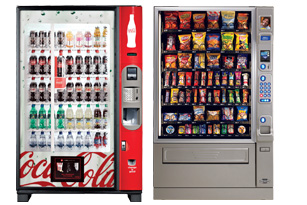 Do you want to improve the atmosphere in your office in The Woodlands without having to spend a bunch of cash? With the services offered by Healthy Generation Vending, you can. We do full service vending, water delivery or filtration and office coffee services. We install the vending machines, keep them filled and clean them, at no cost to you.

Healthy Generation Vending is dedicated to our customers and strives to provide quality products and exceptional customer service. With our full service vending options, your business in The Woodlands will only pay for the electricity to run our vending equipment. With our Energy Star rated vending machines running at peak efficiency, electric cost will be so low you probably won't even notice it.

Our vending machines come with all kinds of great name brand products. We have snacks, hot or cold foods, sodas, sport drinks, energy drinks, coffees and teas, nutritious foods and drinks and candy selections. Coca Cola and Pepsi Cola vending machines are also available with both their long line of refreshing beverages. If you have a large staff and need even more selections, we can install a Micro Market at your location in The Woodlands. In addition to our traditional (purchaser pays full price) vending service we also offer subsidized (your business pays a portion to keep costs low) or free vending (a benefit to employees where you pay the entire purchase amount). We'll help you decide which option is best for your business if you're not sure.

Are you tired of having to run out for coffee supplies? Do you have employees showing up late because the local coffee shop was backed up? If so, let us eliminate those hassles. We can bring coffee service to your break room. Healthy Generation Vending has a huge selection of name brand coffees and flavored teas, brewers, cups, filters, napkins, plates, paper towels, creamers, sugar, sweeteners and utensils. This will allow your employees to get a great cup of coffee anytime of the day or night. This is a great option for those of you with a third shift! Your break room shelves will always be filled with your favorite break room items. With our office coffee service there are no more hassles and no more complaints.

In addition to coffee, we do water filtration in The Woodlands as well. Healthy Generation Vending can bring in five gallon water bottles or offer filtration devices that work directly with your tap.

If you're ready to step up your game and show your employees how much you value them, email us at info@healthygenerationvending.com or call us at 832-510-8363(VEND) and get started right away!